Creative Videos & High-Class Streaming
Together with you, we develop a set for your live-streaming from our TV studio... (DPD set)
...or we broadcast live from your own location (mobile streaming unit).
We produce creative videos for your target group... (shooting)
...and we edit in broadcast standard with voiceover and playout via our IPTV hub (editing).
Camera Team Rental
HD/ UHD/ 4K/6K Full Frame cameras with or without staff

4K/UHD/HD Full Frame E-Mount
1x Sony FX9 HD/4K
1x Sony Alpha 7 HD/4K

4K/UHD/HD APS-C E-Mount with High Speed AF
2x Sony Alpha 6500 HD/4K

E-Mount optics:
18-105mm
28-135mm
70-200mm with 2x converter
90mm with macro
150-500mm

Gimbal and Easyrig

4K/UHD/HD-Camcorder Full Frame B4 Mount
6K with PL-Mount
3 x URSA Broadcast G2 6K-Sensor with 4K-B4-Mount and studio viewfinders
HD/4K optics
B4 optics: Tele optics Canon 7.7 – 123mm with 2x extender 15.4- 246 mm focal length
B4 wide angle lens Canon 6 - 78mm focal length

HD-Camcorder 2/3 inch B4 Mount
2 x Panasonic P2 HPX 500

Handheld Camcorder
Panasonic AJ-PX 270 AVC Ultra-10Bit-422 with Chrosziel compendium and filters
Sony PMW-300 XAVC-10-Bit-HD-422

Equipment
Gopro, drones, slider, cranes, light, wireless micros, grip.
Experienced camera staff for sports, news, and events.
Reliable, creative, and fast.
Booking via phone 0049 69 97 38 37-0 or e-mail info@newsbox.de.
4k/UHD/HD Post-Production
Our editing suites are connected via fibre optic cables to a high-performance shared storage system. Various films can be produced simultaneously with the same material at several editing suites. All formats are available up to 4K in HDR, BT 2020 and Rec 709.
The editing programmes AVID Media Composer, Adobe Premiere and DaVinci Resolve are available. Our professional voice-over booth is designed for up to two speakers.
Thanks to our IPTV hub, fast playouts to broadcasters can be handled directly from our editing suites.
Media Training for Managers
Top managers and PR professionals appreciate the professional media trainings in our TV studio. No matter whether you are invited as a guest to a talk show or as an expert to a TV news programme. Every situation is being simulated in our studios so that you will be perfectly prepared. You can bring your own personal media trainer, or we will find an experienced trainer for you from our pool. We make your stay as pleasant as possible, of course with catering to your liking. Discretion is our top priority. Please ask for our guidelines and VIP services. Our mobile equipment is available for media trainings in a hotel or on site.
TV Control Room
Our TV control room with IFB and TB is perfect for streaming events, media trainings and live talks with NEWS stations.
Digital film feeds and connections for virtual meetings with MS-Teams, Webex, Zoom, etc. are available.
TV-Studio
Our TV studio is designed for up to 5 cameras and equipped with low-heat LED film lights, green and blue box for whatever background is desired.
A white, large horizontal wall with round arch serves as a neutral background.
We also develop individual sets in your CI with experienced set designers.
Stock Exchange Services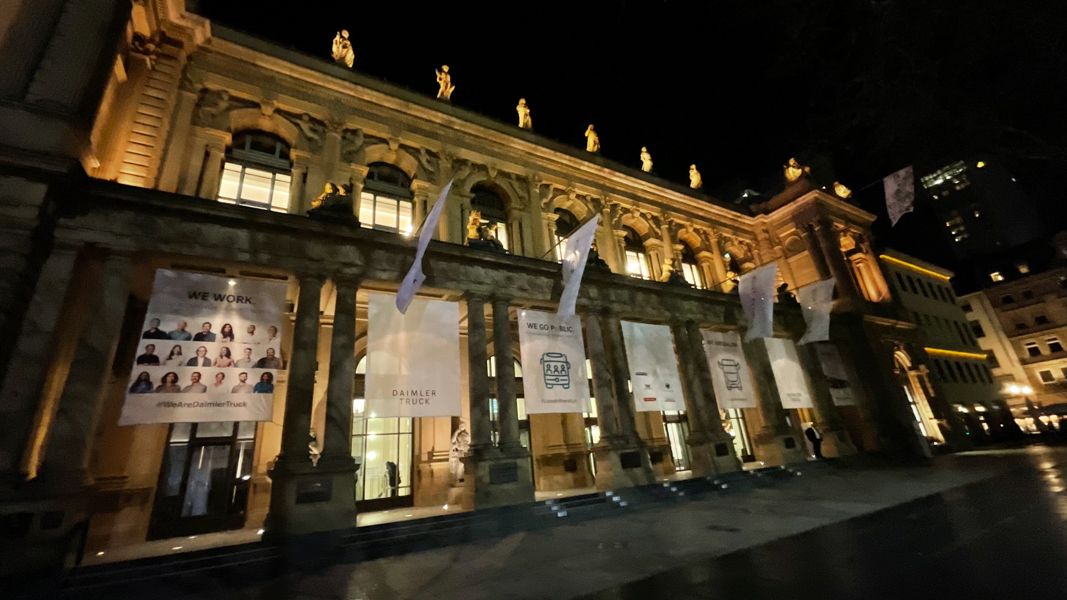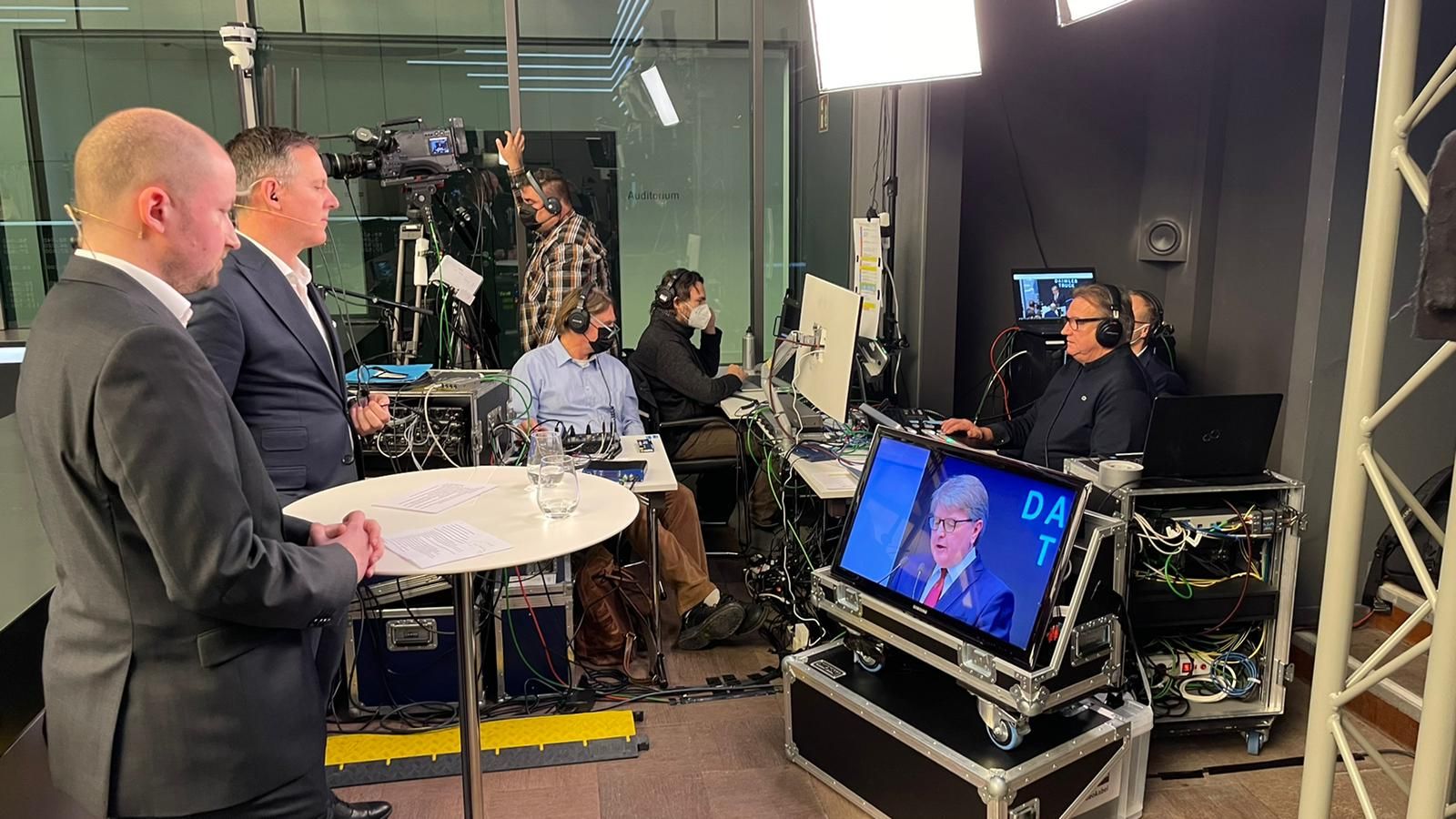 NEWSBOX maintains an IPTV hub at the Frankfurt Stock Exchange. Streaming events, playouts, or calls with reporters are possible.

For streaming events, state-of-the-art technology, such as mesh technology, is used on request. This makes it possible to transmit live images from the exterior of the stock exchange building to the control room in the stock exchange. An OB van is no longer necessary. We have accompanied numerous IPOs as streaming partner of the IPO organisers. Bookings are made exclusively through your IPO contact.
Playout Services
IPTV hub
With the SEVEN.ONE ENTERTAINMENT GROUP an important player could be won. The NEWSBOX IPTV hub is connected to the Group's 8 channels in Germany.
In addition to that, WELT-TV, Berlin - Bloomberg, London - Channels-TV, Lagos (Nigeria) - Business Day BDTV, Johannesburg (South Africa) and Canal ONCE (Mexico City), are reachable via the NEWSBOX IPTV-Hub from Frankfurt am Main.
Since 2021 NEWSBOX has also been connected to the IPTV hub of the ZDF broadcasting group. ZDF, ZDF-Info, Phoenix, 3Sat and Arte are among them. Even playouts to Austria and Switzerland are possible.
Cloud services
Broadcast material can be made available via the NEWSBOX cloud. We will send you a link by e-mail. With a second e-mail or by phone you will receive the password for the download. The cloud storage is located at the NEWSBOX headquarters.

Fast File Transfer
The NEWSBOX Internet connection has a transfer speed of up to 1 Gbps in upload and download. Material from your archives can be quickly made available for your production.
Streaming
There are different application possibilities for streaming.

Use cases for companies.
1. Virtual press conference
We film the podium with professional TV cameras and broadcast the signal to attendees via your video conferencing systems such as MS-Teams, Webex, Skype, etc.
In addition to that, a broadband live stream can be provided to TV broadcasters via broadcast hubs in data centres or via the NEWSBOX IPTV hub.

2. Events for target groups
NEWSBOX offers multicasting, that means broadcasting the event on the company's website and simultaneously on e.g. Facebook, YouTube, Twitter, LinkedIn, etc.

3. Big events, public or non-public
Concerts, talk shows, IPOs, virtual company meetings or project presentations.
We create your landing page for 150 up to 20,000 simultaneous viewers or even more. The landing page can be protected by password.

Use cases for broadcasters
1. Urgent broadcast material can easily be transferred via the NEWSBOX-IPTV-Hub with 20Mbps and more.
2. Expert talks for news shows from our TV studio
3. Live broadcasts via LAN, WLAN, KA-Sat etc.
Standards and formats: UDP, SRT, ABR, AES-128 and AES-256, low latency, HD, UHD

We would be happy to send you our streaming package suggestions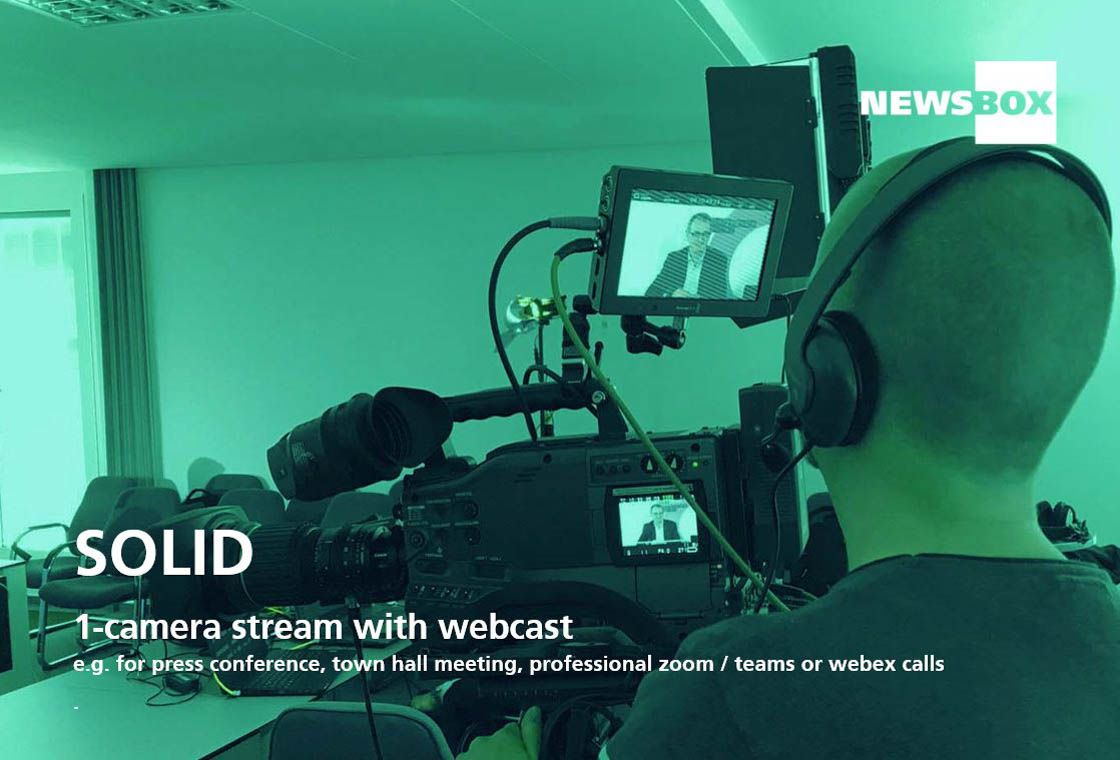 References